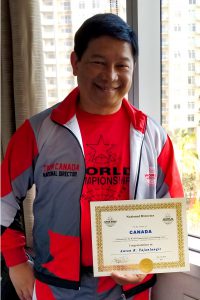 Upon entering college, Anton R. Tajanlangit had tucked under his arm five scholarships, among which was the National State Scholarship which he won from among more than two thousand other high school graduate examinees. All of these saw him through college without having to spend anything at all, with cash allowances to spare.
At the University of San Agustin in Iloilo City, Philippines, Anton was editor-in-chief of his school publication. He trained and conducted the college choir which consistently won the top prize in annual choral competitions. He was Musical Director of the much-acclaimed play "Man of La Mancha" for St. Paul's College, with a cast made up entirely of women. He was then later accepted into the University of the Philippines College of Music, where he went under the tutelage of Maestro Ryan Cayabyab, for Music Composition.
Up until that time, he had led his family of eight (4 brothers and 4 sisters) through a decade of local and international appearances and concerts as a family band, on TV and on live stage. They were joined by their father as the master of ceremonies and their mother, a concert pianist and medical doctor who had earned her Bachelor of Music degree at the age of 15. They called themselves the "VN's Octave" and performed in more than five hundred shows in the Philippines, Japan, Bahrain, and Dubai.
He then founded and was the booker, manager, and bandleader of The Aquatones, a group of fine musicians and singers whose music he arranged, and for twenty years performed with them in Dubai, Abu Dhabi, Qatar, Oman, and Pakistan for private functions and public concerts. He also performed as a piano soloist for 5-star hotels in wedding receptions, birthday parties and numerous other private and public events.
He has produced his own albums of instrumental compositions and piano and voice covers, using his excellent knowledge of Digital Audio Workstations like Logic Pro X for sound engineering and mixing; here, he was able to apply his piano, vocal, and compositional skills. Although he plays proficiently by ear, he has transcribed many of his works into sheet music with MakeMusic Finale.
He became an accredited piano teacher for the Trinity College of Music in London, England for ten years, taking many of his students to Distinction Marks in their bi-annual examinations.
His pop voice students have earned international accolades, three of whom bagged championship trophies in various talent competitions, namely Carol Anne Leus for the TFC Pop Star Search (Middle East) in 2004, Kim Molina for the World Championships of Performing Arts in 2009 and Haina Uddin for the Talentadong Pinoy Worldwide in 2013.
From 2007-2010, he was Regional Director of WCOPA for the Middle East.
In 2007 he bought a nightclub in Ras Al Khaimah, one of the emirates of the UAE, named it klub 88, and revamped its operations to include two resident 8- to 10-piece live bands, 4- to 6-member female dance groups, and DJs, all of which performed daily and which he changed every 3 to 6 months. He ran it for six years and made it to the top of the club scene in the UAE until he finally decided to move to Canada. The name "klub 88" has become legendary in the UAE nightlife up to the present.
He is presently giving piano and voice lessons in Toronto, Canada for the Canada Music Academy, Neighbour Note, and Piano Teachers Connect, as well as in his own private teaching studio in North York, Ontario, named 88 Piano Keys Music Studio. He is also the founder of the Canadian Piano Society of which there are 445 members at present. In addition, he plays regularly for several choirs as church pianist at weekends in two Roman Catholic Churches in Toronto.