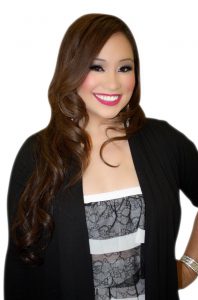 Now on her 6th year as Regional Director of the World Championships of Performing Arts (WCOPA), JANICE LOZANO has this year been assigned the regions of Western and Northern Canada, comprising British Columbia, Yukon, Northwestern Territories, and Nunavut. Lozano had been successful in signing up world-class Canadian talents who continue to make Canada proud. To date, her hard work and dedication have produced two Grand Champions for Team Canada in Ethan David as the 2015 Junior Grand Champion Vocal Performer of the World and Connor Way as the 2018 Senior Grand Champion Male Model of the World.
Lozano is a long-time TV Host and is the CEO of Pinoy Buzz, a pioneering Filipino-Canadian celebrity talk show in Vancouver, BC. The popular talk show features interviews with local and international celebrities, concerts, local events, music, food, lifestyle, and fashion. Some of Pinoy Buzz's most noted interviews were those with international celebrity artists such as Rick Ross, SWV, American music group Ginuwine, Tony Toni Tone, and Broadway diva, Ms. Lea Salonga. Lozano also interviewed popular Filipino recording and movie personalities like Martin Nievera, Gary Valenciano, Sharon Cuneta, Coco Martin, Piolo Pascual and primetime Filipino talk show host, Boy Abunda, to name a few.
Janice is also the new publisher, editor in chief and CEO of The Philippine Asian Chronicle newspaper, the 1st and longest running Filipino-Canadian newspaper in Canada.
As a gifted vocal artist herself, Lozano fits her role as WCOPA Regional Director like a glove. She can readily spot potential "champions" from a mile away. At a very young age, Lozano became YTV Canada's 1st ever British Columbia Regional Winner for its Talent Competition Vocal Manila Spotlight. She was a Guest Soloist at the 1994 Grey Cup Football Championship at the BC Place Stadium in Vancouver, BC Lions vs. Baltimore Stallions, before a capacity crowd of 56,000 and watched by an estimated 120 million television viewers all across Canada, USA and Mexico.
Lozano was also Guest Solo performer at the Baseball Classic '94, a doubleheader exhibition featuring the Toronto Blue Jays vs. Seattle Mariners and Montreal Expos vs. Colorado Rockies at the BC Place Stadium. In a televised ceremony, Janice Lozano received an Award of Recognition from the Richmond School Board and in 2011 received the Most Beautiful Filipinos in Canada Award given by the International Professional Entertainment Network (IPEN) in Toronto for her outstanding achievements in the field of music and for serving as an inspiration to the youth and for others to emulate. Through her talent, Lozano has supported and promoted different fundraisers and community events not only within the Filipino-Canadian community but within the mainstream market as well.
As if these were not enough, Lozano also became a recording artist with producer and Juno Award Winner, Frank Ludwig, keyboardist of the legendary Canadian rock band Trooper, and songwriter Paul Parnes of The Little Mermaid and Sesame Street fame. Lozano produced and guested in numerous music festivals and concerts all over Canada. She had the pleasure of working with the likes of Michael Buble, Ray Carrol, Journey's Arnel Pineda, Jed Madela, and Charice, amongst others. Lozano went to the Philippines for a brief spell in order to appreciate and catch a glimpse of her roots.
She not only dabbles in music and entertainment. She excels in practically anything that she puts her heart into. Now all fully grown up, Lozano is a tireless and dedicated community worker heading and assisting some of the biggest and most successful Fil-Can events in British Columbia. She is now on her 2nd term as Secretary of the United Filipino-Canadian Associations in British Columbia, a conglomeration of over 40 Filipino community groups and associations in British Columbia and the largest Filipino-Canadian Organization in the province to date.
Janice Lozano is definitely not a flash in the pan. She continues to bring glory and pride not only to her own family but to all her fellow Canadians as well.
She can be reached at (778) 772-5847 or email at janice@wcopacanada.com.